Pastels are the ideal color choices if one wants something subtle and want to venture beyond cream and beige. With good furnishings and accent pieces with pattern and walls with one color one can make a simple room look elegant. Or take it a step further by painting pale shades on some walls and bolder versions of the same color family on others. The subtle adaptability of pastels makes them beautiful color choices for any room, in any style.
Calming and welcoming, pastels adds to the ambiance and a serene glow to any room. With the range of hues, from light lemonade to delicate pink to soft minty green, one can enhance any style of room with these pale palettes.
Rediscover the appeal of pastel colors in your home:
Pastels lend a relaxed feel to living spaces; they add a retro appeal to your kitchen appliances and are uniquely modern look in neutral paint colors. In today's interiors pastels are back and in a big way! Whether you are thinking of giving your interiors a makeover or just adding some pastel touches to your textiles – there is a wonderful emergence of pastels in interior design.
Pastel kitchen appliances are in vogue:
Kitchen appliances have come a long way from white, beige and black color choices. With pastels becoming a trendsetter, various kitchenware brands are releasing new collection with hue of pastels.
Pastel interiors balances the interiors well
Lighter shades of pastels give a very relaxing feel to a space and balance out There is something so relaxing about the lighter shades of the color palette for your spaces that you want to escape from the world in. Bathrooms, bedrooms and sitting rooms are ideal for using soft colored textiles, bedding, and decorative decor throughout your space.
Pastels are for any look you want for the house:
Whether you love the laid back appeal of Shabby Chic interiors or the rustic weathered look of classic cottage style, pastel colors can be a welcomed addition. It's always good to start with furniture you love in patterns, solids, or mix and match them. Use pastel hues of whites, yellows, pinks, greens and blues to bring out natural influences.
Starting off with selecting furniture first:
Instead of worrying about the colors, choose the right furniture for the interiors. Sofa and matching end tables coupled with hints of floral, stripes, or even polka-dotted pastel fabrics will give a new pastel-enhanced interior a sense of familiarity.
Choose the right coloured wood to complement pastel interiors
Look for lighter colored woods such as white oak, bamboo, lighter maple and similar varieties to complement the pastel decor. If contrast in interiors is not something that you are looking for steer towards rich cherry wood which looks gorgeous with pink and peach colors or try mahogany or deep brown colored stains with pastel yellow, blue or green for a beautiful contrast.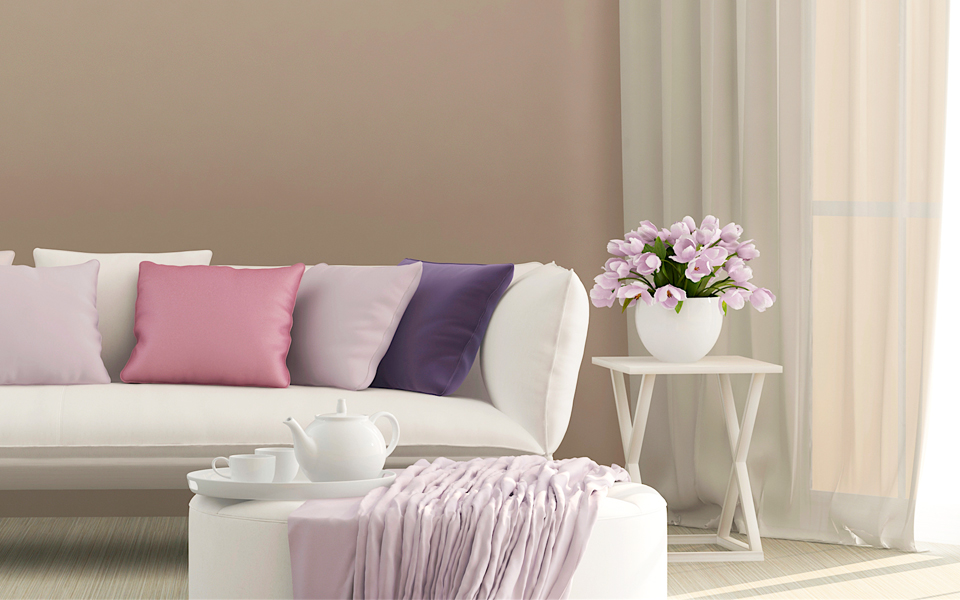 Pastels are for every style and taste:
Pastel colors aren't only for the young or for those with feminine style preferences. The ability to pair navy blue, turquoise and soft air blue in a bedroom bedding combination would make a good combination for any masculine bedroom. Remember pastel colors help to creating depth when combining with bolder patterns and colors.
A new pastel color from the palette can be invented:
When thinking about pastel colors we only think of the obvious 7-8 colors that represent the rainbow but in pastel tones. Well a lot more can be discovered with whole world of muted tones or in other words the "gray" tones of all the colors. Find a color tint graph that represents the different saturations of color. One will find pastel shade for every color like a deep purple can have a lilac pastel version or a muted gray with purple undertones.
Let Pastel colors be an inspiration for your designs:
Everyone gets a glint of creativity from different sources. Visit a candy store, produce aisle at a market or take a walk through a botanical gardens. Natural pastel colors all around us can be an inspiration.