If there is ever a room more suited to being experimental and exploring your fun side, it's the child's bedroom. However, key things like safety, comfort and using furniture and things that can be cleaned easily should be the underlying theme. Gender-specific colors in the child's room are a passé. Instead, use neutral shades and use add-ons to give the room the theme you want.
After adding basic furniture like a comfortable bed or a bunk bed if your kids are a little adventurous, accessorize the room with fun elements that are easy on the pocket considering you won't be using them for long (kids grow up really fast :) )
Bunting is a great way to add that festive cheer into his/her room. Adding a string of bunting or lights creates an amazing feeling of merry. Painting a wall or door with blackboard paint or a free standing blackboard helps to bring out the creative side of your child. You can also decorate a single wall or a couple with patterned wallpaper or oversized decals that will add character and depth into the child's bedroom. Nature inspired, graphic motifs looks fresh and modern and can be mixed with other patterns.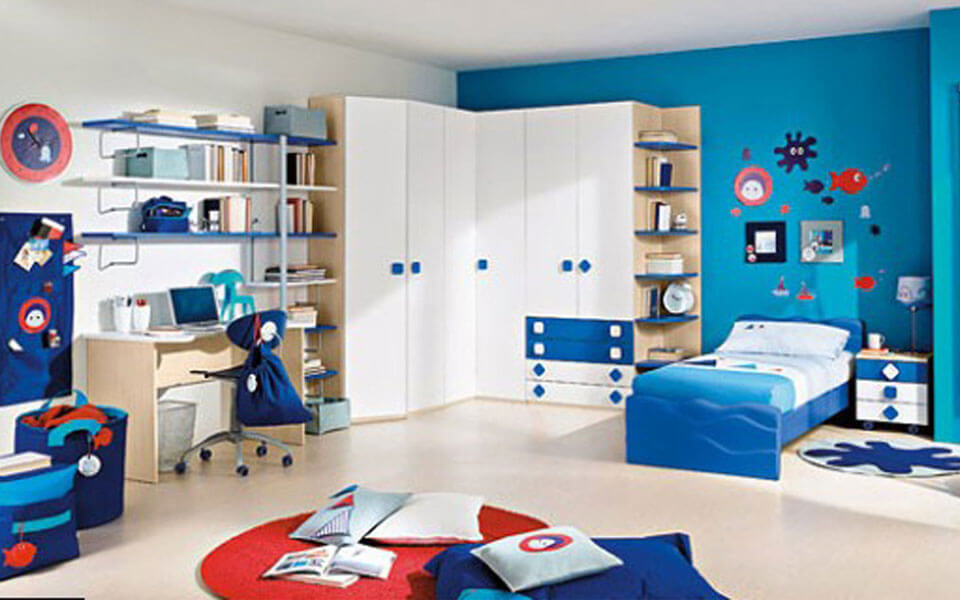 Get creative with storage solutions. Wire baskets can serve as a decorative storage and colourful book displays can spark your child's curiosity. If space permits, incorporate a teepee. Children love feeling cocooned in small spaces. Teepe's make perfect little dens, reading nooks or play stations, not to mention they look fabulous. Introduce one or two vintage furniture and for maximum impact paint them in a bright hue.
Invest in a few frames to put your child's artwork. Displaying your child's artwork makes the child feel loved and bloom into confident individuals. It also adds color and personality to a bedroom. Instead of randomly adding artwork, group together pictures in a gallery style format for maximum impact or hang on a wire line like you would when bunting. Replace and update as the child grows. Large or small, old or new, maps add a touch of wanderlust and give the kid(s) a keen eye to explore.
Don't think of standard bookshelves. Your shelving can double up as an art piece in the room. Create your own bespoke shelving according to the colours of the room. Add on some smiling faces cushions to help them feel at ease and slip off into a quiet sleep. So go on, add the extra luxe into your child's room.