Accessorizing the coffee table with various objects is indeed a real experience; it's a sure-shot way to add fun and nostalgia along with some glamour to your home. When the little historical stuff is mixed with updated furnishings, they create a look that is eclectic, unexpected and completely your own. So be innovative when trying to find the right treasure for that little coffee table which gives you the best start to your day.
If you have your likings inclined towards leather and fabrics, cover the table with a rug which slightly contrasts the colors of the wall.
Also you can make a rug by stitching those old fabrics and making it altogether fashionable and noticeable. If you really like an object with some added roughness, you can recondition those old display pieces and use it over your table. Wooden logs can be redone to brighten them up and used as low chairs with some cushion pads to give a new look to your coffee table. You can also cover a metal or wood table with mosaic tiles to transform the look into a piece of art.
What can be better than giving the natural touch to the inanimate table? You can place some indoor plants or colorful flowers in a vase to break the monochrome of the room. The best way to compliment them is to find the best light to add to the mood and depth to the usually flat surface. You can place candles scattered about in different shapes, sizes ad aromas. These shall help to cut the symmetrical pattern of the table giving it shimmer and glow. If you have kids around, go flameless. Let only aroma do the talking and sip over worry-free. You could also add pot-pourri to the mix.
You could also accessorize with your favorite books, and let the characters from those books be your company over the coffee table. Stack your books in a random yet organized manner so as to be noticed and easily used. They can for sure be a great reason to start a meaningful conversation, so add them and you can change them every season to let people know about your mood for the read.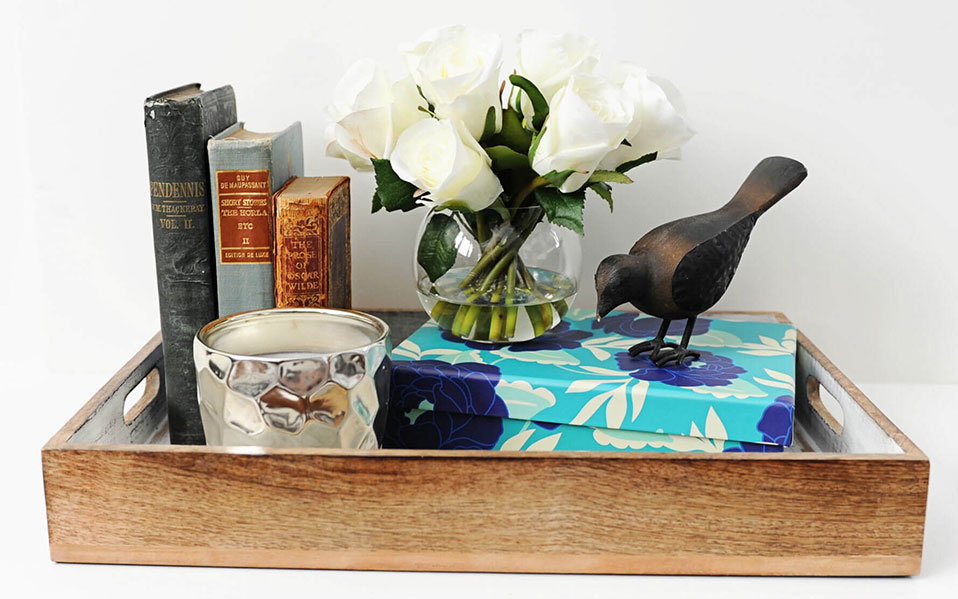 You can place some of the natural elements in a bowl to add as filler. Use a wooden or a glass bowl and place some corals, sand or colored glass beads to give texture to the entire set up. Trays help to give an organized look if you don't like random arrangements. You can always use trays to stack the candle, books, plants or any other object to give it a nice look. Make sure that the colors don't mix with each other. Play with colors and break the symmetry that shall make table from small to big, look better, brighter, and classy. You could use curios and things that you brought back from holidays to put on the table. Let every object convey a story; let every object be a conversation starter. We are sure your home will always be filled with friendly chatter around that table.