When something is referred as Bohemian, it denotes that they carry an air of evocative mystic and belongs to a wanderer by heart. They symbolize artistic and literary interests of the bearer who likes to lead a vividly colorful and unconventional life.
For all those who need to break their monotonous setup or simply want to revive some freshness and spirit in life, shall absolutely try to embrace the soulful and fascinating designs and ideas for home decor and go Boho. Charmingly cluttered boho-chic home decor celebrates luxurious fabrics, beautiful interior decorating colors, unique textures and amazing decoration patterns, creating gorgeous, comfortable and cozy rooms. Bohemian interior decorating ideas are about romance and exquisite luxury that make home decor truly unique and intimate.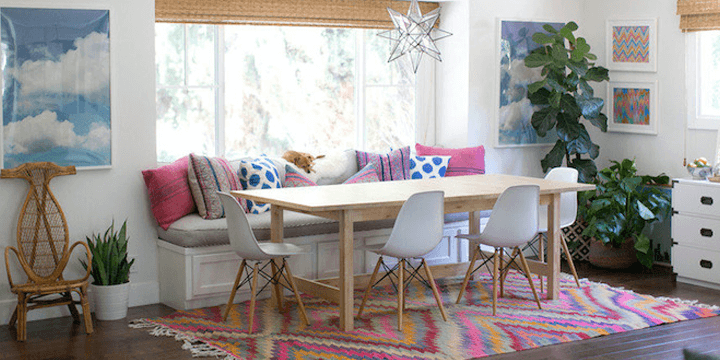 Creating a stylish bohemian home means a little bit eclectic and a little modern, but always colorful and very fun. Perfect for those who like to mix it up with colors, textures and patterns, the bohemian look is very forgiving. You can throw any art pieces together, mix vintage with contemporary and mix colors and patterns. If you're looking for some free-spirited home decor inspo, here are some boho home furnishing ideas that do a stellar job of combining bright colors and bold textures to create interiors full of personality.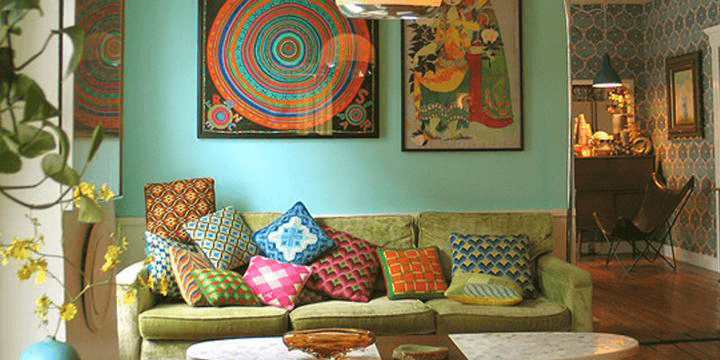 For starters, mixing intense colours and pattern, with piles of cushions, low-level seating and layered rugs will create an urban Bedouin-style living room. Bright colorful throw pillows are great accents in any decor but with little detailing they also create the atmosphere of the Moroccan style. Create a vibrant look with patterned or bold throw pillows.
A vibrant blue-flocked coffee table will give traditional living room a bright new twist. The collage of framed prints, clustered light shades and patchwork cushions add to the quirky spirited feel. You can also try a more modern shocking pink instead of the traditional dining-room red to bring a touch of bohemian opulence to your room. Just play with styles and colours with confidence and set them against a dramatic backdrop of colour with matching walls.
A low-level Moroccan-inspired lounging area is a perfect way of making use of an awkward space under the eaves of a roof. Ensemble a bold rug with patterned wallpaper and a gallery wall that doesn't take itself too seriously, to create a cozy living room that is bursting with character. You can also take completely vibrant yet complementary set of chairs for a vintage dining table and get the perfect carefree Boho look.
And worry not, if you are low on budget, you can simply paint shades of rustic hues on the existing furnitures and instantly change the feel of your boring home to an abode where all the fun things reside. Bohemian interior decoration is the perfect style choice when you want to set a warm, welcoming and very special atmosphere in your home.